FAST & SECURE ACCESS (FSA) @ HDB
Fast & Secure Access (FSA) @ HDB
HDB SmartLock for Fast & Secure Access (FSA) is an access control solution pioneered by Ademco for the protection of key infrastructure in Housing & Development Board (HDB) Estates.
Relying on traditional key management systems such as the basic security key boxes is more than often fraught with many security weaknesses and disadvantages:
It can be time-consuming to manually distribute keys to authorized users and collect them back when they are no longer needed.
Risk of keys being lost or stolen and duplicated when they are not in the control of the security box.
The lack of audit trail and real-time tracking of personnel movement limits accountability.
Limited flexibility: It can be difficult to quickly make changes to the key management system, such as adding or removing users or changing key assignments.
With FSA, this access control solution provides an additional layer of security at your key utilities installations by controlling and tracking access authorization and implementing a robust audit trail system, allowing only authorized personnel to access restricted areas such as pump rooms, switch rooms, and rooftops quickly and efficiently.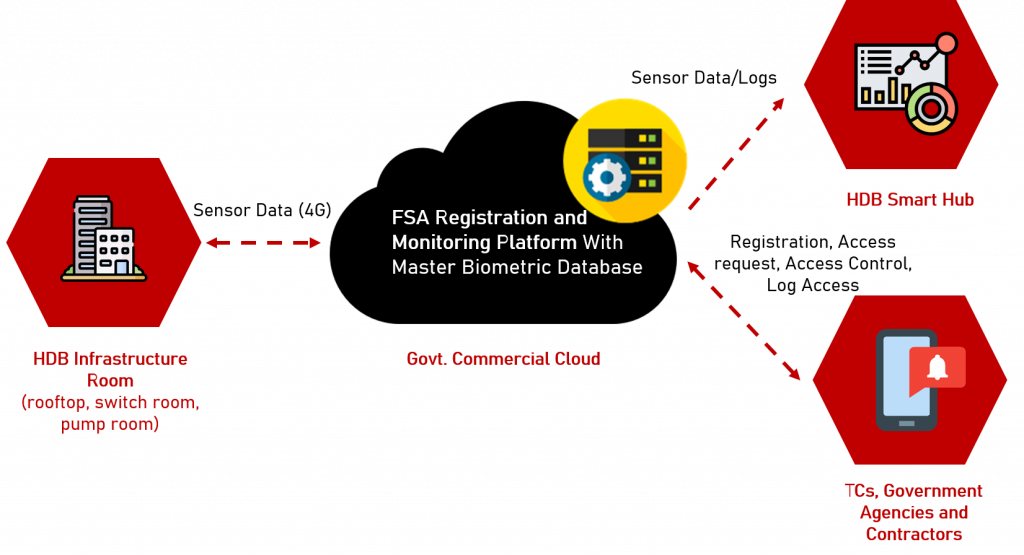 Reach out to learn more about our services
Multi-Factor Authentication (MFA)
FSA utilizes a Multi-Factor authentication process from facial recognition technology to mobile verification to facilitate access control without the need for physical keys.
Remote Monitoring Support
Ademco's Central Monitoring & Command Centre (CMCC) will monitor for any anomalies such as intrusion alarms, tampering, intruder detection, and unattended and unsecured entry points.
Centralized Management Portal
A dedicated management portal allows agencies to authorize and manage access, while external parties are able to submit and register for access through the same portal.
Robust Cybersecurity
A master biometric database is stored and secured under the government cloud for enhanced cybersecurity.
SECURING CRITICAL UTILITIES
Securing your critical utilities such as pump rooms, switch rooms, and rooftops can help prevent infrastructure failure and deter bad actors in the estate, while offering a peace of mind for the residents and councils alike.
Reach out to learn more about our services